Instruments
Non multa, sed multum! - Not many, but much!
Plinius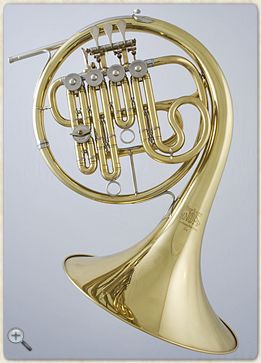 All horns wearing the name "Herbert Fritz Knopf" are manufactured in our own workshop based on our own, tested models. Only materials of the highest quality are used in this process.
Customers may choose from two different bell sizes (medium and wide). We offer three alloys as base materials: brass, gold brass and nickel-siver. All instruments are equipped with string action or ball mechanics. By request and with an additional charge, minibal mechanics is also possible.
The close cooperation with professional musicians from top level orchestras allows for a constantly growing perfection of the instruments' quality. In addition, new scientific findings affect the production as well.
Naturally we also offer repairs on all brass instruments.
Model No. 6
single Bb-Horn 4 valves, combined
A-valve or compensating stop valve
Model No. 13
compensating double horn Bb/F, 4 valves
Model No. 14
compensating double horn Bb/F,
5 valves with A-stopping valve
Model No. 16
full double horn F/Bb,4 valves,
famous Knopf-model
Modell No. 17A
double horn F/Bb 5 valves with A-stopping valve and manual switch
Model No. 18
full double horn F/Bb 5 valves with E-A valve and stopping valve
Model No. 20
Bb high F descant double horn 5 valves, with A-stop valve compensating double horn
| | |
| --- | --- |
| | Improvements of Model No. 16 |
Concerning type No. 16 an even higher well-balance of the tone in all playing registers could be reached by extensive improvements
Components of this improvement are as follows:
a new milled changing valve which prevents disturbing compression noise
a new modified mouth pipe
improved bell size
Mute for horn, own production
own production
small form
148,75 Euro plus shipping
lage form
160,65 Euro plus shipping
Mouthpieces for learning how to blow with little pressure you can find here: MZG - The "Methodisches Zusatzgerät" (methodic accessory)